Podcast: Play in new window | Download
Yes, ultimately I believe that Blessings in our life flow from God.   Throughout each day there are many opportunities offered to us that keep them coming.   Our brains allow us to think thoughts that in turn give rise to emotions and then behaviors.   A simple example is:  If you believe someone is unkind to you, it may make you angry.   In turn, you may react in a poor way by being nasty to everyone around you or even physically lashing out.  Rather than see the negative things, be kind and gentle to yourself and clarify your thoughts.  Then your behaviors will be gentler and more amicable.
Affirmations
Dolly Pardon encourages us to affirm ourselves. "You are good enough!"  Yes, you are great!  We need to stop criticizing and encourage ourselves and one another.   Provide affirmations for yourself.  Note the things you are good at doing or enjoy and engage in those activities.  Remind yourself or your own gifts.  Walking hand-in-hand with others makes everyone's life easier.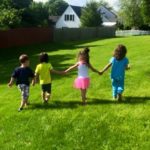 Today's podcast is about helping yourself and giving yourself good vibrations! Having good thoughts repeated over and over again are affirmations that we can feed to ourselves. Therefore, do it regularly.  When we help others carry the load, we help ourselves too!  Sometimes it is for a friend, a family member, or our 4 legged friends that we love.
Linda talks about forgiveness and how it keeps us healthy on a physical and spiritual level.  The "formula" sentence she shared is "I forgive (name) for (name the specific offense)."  Do this for each offense rather than trying to forgive the person for all offenses and work through them one at a time.   We need to clear our minds of things that pull us down and the way someone has hurt your feelings, upset you, degraded your work or disregarded you may need to be pulled apart and deleted.  Forgiveness does not mean to forget.  It means to feel better about yourself and to move forward. Forgive and forgive and forgive.  It will help your heart, your mentality, and your days happier.
Align yourself with a variety of fun times and as a result, you will have a well-balanced life.  Relax, play, pray, and enjoy.  best of all find people who joke and laugh a lot!
Join our Mastermind on Thursdays at 10:30 am.  You'll be glad you did!
Enjoy something special this weekend.  Make your days count.   Happy Thanksgiving!
Want to get involved in a wonderful race, then join in on the first Sunday of December.
This Sunday is our Community Santa Run!