Podcast: Play in new window | Download
Who Are You?
Welcome to Mini Miracles from Minor Moment where it is the small moments that make an impact in your life. Who taught you and how you do things is unique to each of us!   Og Mandino wrote many books, but most recently I am rereading the University of Success. It is filled with stories and ideas for better living, Og helps you reflect on yourself.  Listen to today's podcast as Linda asks a series of questions that might help you to advance.
Mastermind groups are the rage today, Join Us!
Join our Mastermind that meets on Thursday at 10:30.  It is support for you and for your business.  Now more than ever, we all need support.  Check us out at https://www.lindagullo.com/mastermind and follow the steps to become part of it.  Here you get feedback and can brainstorm with other people navigating through life.
Technology
If you feel that you are being challenged by tech needs, you aren't alone.  For many people, it is something that wasn't needed prior to the Coronavirus isolating us from one another.  Now you may need to act quickly for your business and to relieve stress that is within.
Technology support is another area you may need to make life easier; especially right now.     Well, I have a person who can help you. He has the skills and knows how to direct you. He is great at teaching you too.  Just click here to check out John's services, now is the time.  He works on websites, integrations, and desktop needs of all sorts.
Groups
There is a weekly show on TV called MOM.  It is a show about a group of 6 women that have addictions in their background.  They come to rely on one another for support.  We usually see them in a restaurant exchanging humorous commentary on a problem.   Although they deal with self-made issues, don't we all?
We too have a one-time pain workshop in addition to our Mastermind.  It is on Reframing your pain and outsmarting it.  It is a wonderful opportunity to grow in your own skills and self-esteem.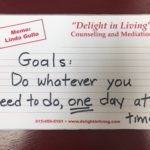 Our staying in touch with you is really important to me and those I work with here.  We relish you and want to serve your mental health needs, to keep you motivated and inspired, and to help you be the best version of yourself.  After a lifetime of detours in my own life, I want to help you find value in yourself during these tough times.
In the Delight in Living office, we offer counseling care in addition to Coaching.  Let us help propel you forward to your next goal.
We are growing here and have added on Mary Gullo Balderas as our Virtual Assistant.  She will be helping our office with the growing demand for online services.
Until next week,
Take one step forward,
it may put you on the escalator of success.