Let the Race Begin
Let the race begin is kind of ironic for me. I have assigned two words for myself as the year begins.  More words will evolve each month as the year moves ahead.  These are well thought out!  I have chosen a few special words to use as a bridge into 2020. Here is a list from another site I discovered.
Slowly
One of the words is "slowly."   I am very guilty of rushing.  Rushing to get things done.  Rushing to make up for my husband who is slow due to his ailments.  Rushing as if time is not my friend.  What started this consciousness was a fall I took going into Midnight Mass on Christmas Eve.  I skinned my face, hurt my right hand and arm,  injured both knees and a hip.    I never got into the service.  The worst part is getting into a car now, I still hurt.  Are you also rushed?  Time is our friend.  Doing things slowly has the benefits of doing it correctly the first time and being safer!
The upside is that I didn't break anything except my pride.  I recognize this is all temporary.  I am already mending although it will take a while to fully mend.  It makes me more empathetic to those who have permanent injuries and reminds me to slow down.  Again slowly is fine, it will ease me into the next month with care.
Sharing
The second word for the month is "sharing."  I need to share my experiences in writing, coaching, counseling, podcasting and speaking. I have been blessed with many stories and I can help you!  Now is the time to do this.  Expressing with other people need to have affirmed and acknowledged is my way of developing a legacy for future generations.
Now to share a photo of a gift given to me at Christmas from a cousin who had it made especially for us.   As many of you know, we build an outside garden house in our yard a few years back that I have come to enjoy around the year.  After many names, we came up with The Delightful Den.  She had this sign made for it.  Isn't it perfect!  The Delightful Den is an extension of my philosophy to Delight in Living!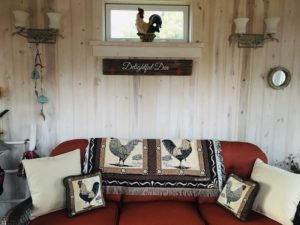 During the Fall season, I began cartooning.  I am sketching ideas to help me see exactly what needs to take shape.  You will be seeing some of these as the year goes forward.  Simple to say the least.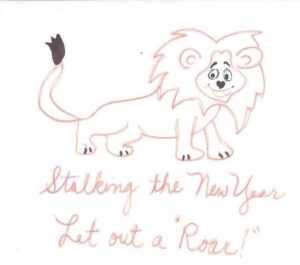 As with all the topics we share here, self-development is essential.    We need to know our values, our concerns, and the direction we will pursue for self growth.   We need to develop great relationships and enjoy what we have.  Let the race begin for you.  Decide you key words for the month.  Launch yourself forward by connecting with people you appreciate.  Enjoy!
So welcome to 2020.  
Feel free to send me topics, and ideas to share.  Most of all remember to take the first step, it may put you on the escalator of success!