Podcast: Play in new window | Download
A Mental Makeover?
"I am sorry for the things I have done and the things I have failed to do."  This is a line from a prayer that made me think about the mistake I made this morning coming here.   I failed to put on my indicator early enough.  It could have helped a lady nearby.   I didn't intentionally do that, but something I was aware of not doing!
Prioritizing Our Mental Health is Essential
We need to put our Mental Health on a level higher than we do.  Mental health has to be equal to our Physical Health in terms of importance.   Both are very important.  Our mental health is valuable. Are you ready for a mental health makeover?   As a Psychologist, it bothers me that people pay for everything, but the one thing that drives their whole life and is most valuable they fail to invest in is their thinking.  Yes, invest in your mental health.  Do it now. Take time for your mental health – get good coaching.  Also if you are a business person or entrepreneur think about registering for our Mastermind that meets online Thursdays at 10:30 CST
Stimulate your Mind with a New Word
On Sirius Satellite, Channel 129,  I listen to a Lady by the name of Jen Fulwiler.   She is a stand-up comedian, a mom of 6 kids, and a radio host.  Her background is programming and has a few different sites.  One of these is a site that generates a word of the year.   It is a site that provides a word you can use to stimulate your mind to try new things or reprogram your thinking.   I love the idea of setting a word to stimulate us to be better.  Although if you follow me I believe we need to rest our goals on a quarterly basis and not for a whole year at a time.  Maybe this will make you ready for a mental health makeover to feel better.   A change of habits that can shine joy and a new direction.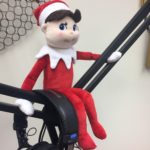 Blessings to everyone as we head into the Holidays.   Have a Merry Christmas and enjoy your family and friends.  As always take the first step forward, it may put you on the Escalator of Success.