Podcast: Play in new window | Download
Music Jingle
Intro: This is Mini Miracles from Minor Moments with Linda Gullo and I welcome you to Podcast #61 on Topic of Reading Books
As a child living in Brookfield,  Illinois, our family lived close to the Public Library. I began walking there early on, and that is where my love of books began. I had a special shopping bag my mother had made for me to carry the books in and at home it hung on the doorknob of my bedroom.  Ironically, I still have that bag and feel attached to it!  I would be there daily; checking out all kinds of books that looked exciting. Some were picture books and others written with words. The best part was all the neat bookmarks that you could have FREE with your books. I think the local schools and groups donated them. Each was so different and I recall having a collection of them. The kids section was in the lower level and sometimes is was damp down there, so we'd be allowed to sit in the sunny upper study room. When I was ten, we moved from there and we didn't have a library nearby anymore. I felt a loss of friendship and began drawing and looking to our local grade school for books. Thankfully that helped.
Books are the friends that don't talk back to us. They empower us to do the things that come naturally and help us engage with people who are able to express themselves in writing.
What encouraged me to talk about books today was the frequent rains and flooding that are taking over certain areas. I do hope people have plenty to read during these times of stress and when they are locked into their areas by rising waters.
As for me, I don't feel locked in when books are available.  My money has always been spent on books. I no longer go to the library since I am out the boundaries for our local one, but as I write this there are 3 different books that I want to share with you and the impact they have on me.
The first one is by Mel Robbins, who I recently rediscovered. Her first book that has been on my shelf is Stop Saying You're Fine. It was aimed at getting through depression. As a counselor who is concerned with helping people suffering from depression, I bought it back in 2013 to read. It addressed issues that Mel, who is educated as an Attorney, was addressing for herself. She is upfront and authentic in talking about her struggles with feeling insecure, anxious, and unhappy. Here is a marvelous woman with a loving husband and children, who had so much going for herself and still expected more. In the way any one of us who is an achiever could relate to her.  She took herself into a different place and helps others to do the same.
So fast forward to now when I have been reading The 5 Second Rule.  I am one over 8 million people who are making her rich by reading this book. I love it and keep rereading sections. I am a sales woman for her. She teaches us to not procrastinate and encourages us to become self starters. I feel recharged to say the least. Having read the book and taken her courses has help escalate me to a new horizon.
The next book is by Alexandra Stoddard. I first began reading Daring to be Yourself many years ago and just continued reading her writings. I attended one of her presentation at a Creative Arts series at the Woodstock Opera house and fell in love with her thinking. She believes in values and putting yourself in the center of good things that are transforming. She helped me blossom with interior designing elements when I was younger and still have a love for the beautiful things like flowers, music, color, and life giving resources all around us. Choosing Happiness, which I am currently reading is similar in format with her other books. It is written in blue ink with colorful pink sidebars. Just heavenly to indulge in and enjoy without feeling guilty. It is great summertime reading. I actually read it and stop to pray as I do. It helps to relax me.
Finally the 3rd book that I am digesting is Finding Your One Word. I am reading this slowly as it asks many questions and has one doing introspective work. I am not sure I can boil my personal motto down to one word but I am trying to focus more so who knows. In sharing this with a friend, she tells me that she selects a word to focus on for each year. I am thinking I may do that quarterly. It is by Evan Carmichael and aimed at helping to create a healthy business.  This one I will also be working on for awhile to glean out as much insight as possible.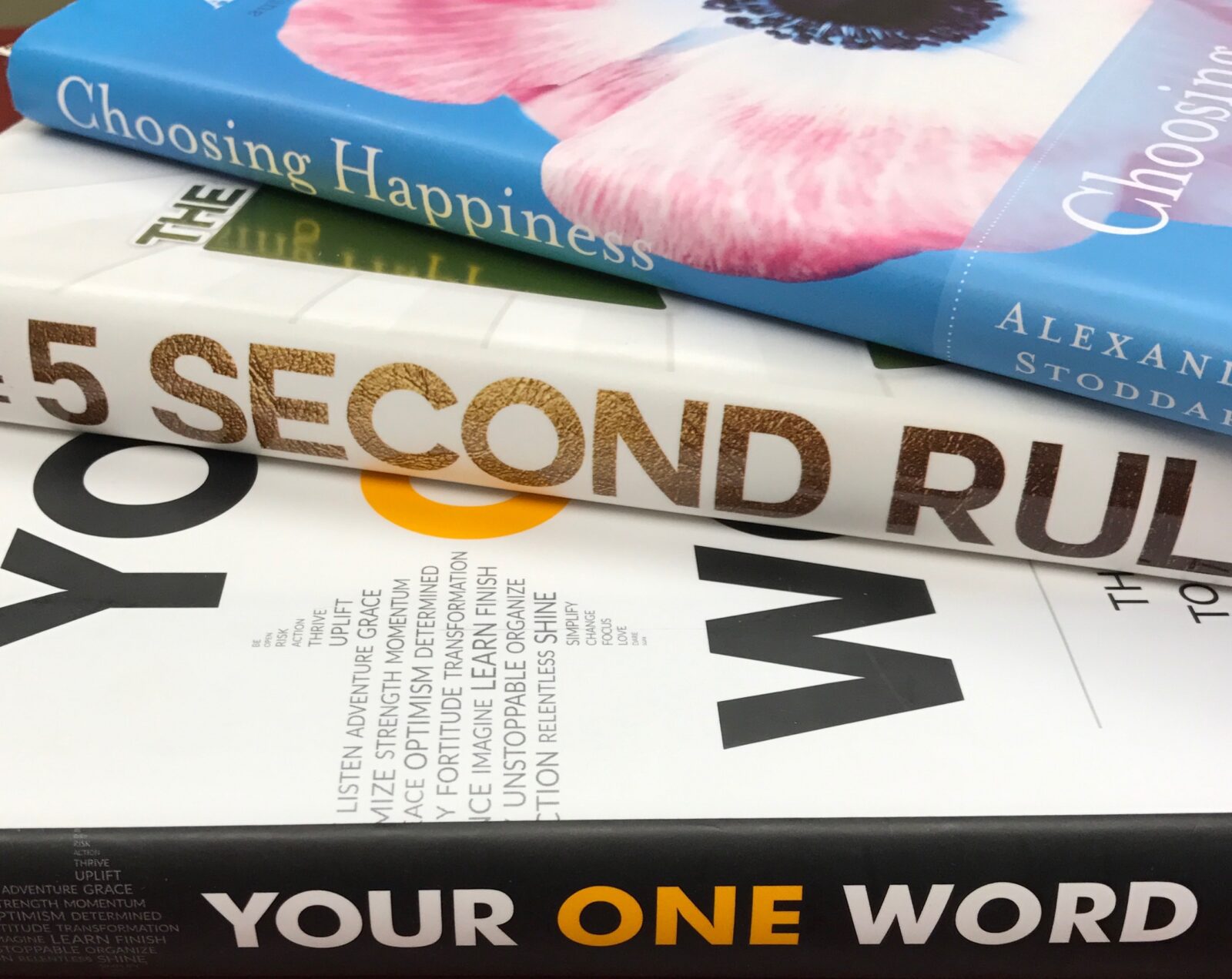 At my daughter's home, she is reading a book from 1945 about our country to her daughter who is 6 years old. It is a good way to learn some history about the USA. Of course, the child sees this as way back in the day. Pretty funny.
Reading is something to encourage early and although not every one of us likes reading, it is a great companion to many or us.
Signing off until next week.   Take just one step, it may put you on the Escalator of Success!
Books Resources:         The 5 Second Rule by Mel Robbins
Choosing Happiness by Alexandra Stoddard
The Secret to Success Lies in Just One Word
Save
Save
Save