Smiles light us up and make life so much better.   It is a state of mind that helps us make the best of any situation.  I had once worked with a man named Wayne.  He always had a smile on his face even when things were tough, he seemed to be thankful and content.  Happiness allows us to be grateful for the things we have been given, and gives us a way to show appreciation.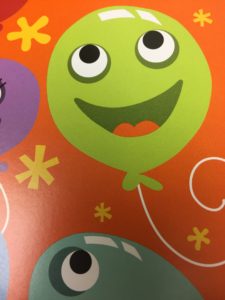 Smiling babies and happy people make friends.   They are usually comfortable with themselves and want to help others. A smile is a curve that sets everything straight. ~Phyllis Diller
I love looking at pictures of people smiling.  My dad always had a happy-go-lucky smile on his face and I keep a picture of him under the glass on my dresser.   Smiling pumpkins during this season remind me of  my childhood.  Just try for a few weeks to smile, as often as, you can.
Share the things that bring you joy.  Having been with my youngest granddaughter this past weekend was fun.   She was so eager as only a two year can be to show me her toys.   At one point she brought me an entertaining twirling pig.  I put a teacup on its ear and we both started to laugh.   She knew it didn't belong there, but the toy kept dancing.
Family times are where some of the best memories tend to be so I need to get back to picture taking.   Which reminds me of the strips of pictures from picture booths.   I have a few of those under the glass on my dresser as well.  They were the only source of pics in the shopping malls years back before the cell phones took over our lives.   I bet you may have a few of those or even old faded Polaroids.   (Now there are new ones hitting the market again.)
Psychologically we all feel better smiling, so have a great weekend and break out a grin!   Delight in Living and watch the Mini Miracles unfold.
Save