Have you ever tried to make out menus for your family?   One of the biggest joys for me is to go into a restaurant and read their menu.  It tells you a lot about the place you are eating.  Is it a single, small ice cream parlor with specialties that makes you feel special? Is it known for a hometown favorite?  Is it a franchise where everything is the same no matter where you go?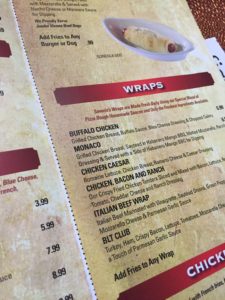 Menus tell us the cuisine.  It may be all French food or strictly Italian. It may be Asian food or All American.  At home, our tastes may be varied.  I know in our home we were "the International home of foods!"  My husband being Italian had his favorites that I still make today.  There were the Mediterranean dishes of pasta with vegetables, garlic, and olive oil.  There were the Spinach patties and other family dishes that I make.
My grandparents were European and so I also learned how to cook those dishes from Prague and Austria. My husband loved Julia Child and would make Vichyssoise and Lamb dishes.   We began to add in Mexican dishes of Pollo and Tacos.  As the kids grew our family tried new things.   We'd go out to restaurants and encourage them to taste new foods; there were Frog legs and Venison.
Shifting our menus makes us appreciate having food.  It helps us recognize how lucky we are to be able to go into a store for groceries and buy whatever we want.   It is easy to take for granted our freezers and the many opportunities to eat well.
We all have our local food pantries that are needed, because so many people are without jobs and incomes.  Young people have come out of school with loans that lurk overhead.
So what is on your menu today?   Whatever it is, feel blessed and thankful.  Have a beautiful day and savor the many flavors and opportunities to eat.
By the way, we are having a Mini Miracles Cafe start this Fall on Friday nights.  It isn't a menu for foods, but for the "mind".   Won't you consider joining us?  It will be great fun!