Podcast: Play in new window | Download
Welcome
Finding perspective in trying times is a challenge. How has your life been disrupted during this outbreak of the Coronavirus (COVID-19)? Can we help you process things? Here at the Delight in Living office, we are doing a lot of our contacts on the phone and thru zoom. No way do we want to leave you in a lurch.  If you are feeling the loss of control, or in a place of how to be more resourceful, chances are that you are not alone. All of us are in a new environment.  It is good for us to think about how we will accommodate. Self-care and taking care of our families is important.  Also teaching one another not to be selfish is the greatest lesson.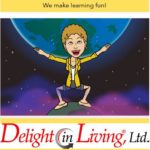 "Perspective is the only thing consistently more valuable than the answer itself."  Andy Andrew

Steve Dotto teaches us online techniques. This is a time to teach one another. How to reframe thoughts. We are resourceful people. I am here for you to help you process things. A program on pain is coming up—how to deal with pain and things you are going to deal with. A program on "systems" is also coming up.
Taking Shortcuts
We all tried as children to take shortcuts. Here Linda discusses how we can't always do that.  Shortcuts don't always work.  That is when we are called to be responsible and look at the larger picture.   How do you take shortcuts? What is the destination you are trying to reach? Do you find things fall into place naturally?
Dreams and Visions
We all need to have a purpose. This is a time to look at them.  Set a new series of goals. The question becomes, how can I help to be responsible. This is a time to teach one another balance. Variety in life reflects every area of our life. Eating is only one area in which we can do this. We need to learn boundaries; how to conduct business. How to care for our bodies and the expectations we set for ourselves.
Mini Miracles is designed to help you to stay in the moment. Keep balanced and feeling well is now a new focus for everyone.
Take the first step, it may put yourself on the escalator of success.