Podcast: Play in new window | Download
Seasonal Poinsettia Plants
Poinsettia Plants transfer instant joy into our homes and offices.  Learn on this week's podcast how it blooms into a color.  It is a plant that brings color and cheer.  Life needs to be peppered with life-transforming plants that help us feel lifted and elated.  It comes around the dark dreary days of winter when we can all use a boost and lasts for a long time.  Eventually, it turns back into a plain green plant that can be planted outside in the late Spring. Your local nursery is there to help.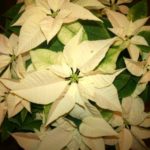 Finding your Passion
Passionate things like hobbies, being with family, traveling around the world, and sports add a great dimension to life.  We need to look around us and find them.  Share these with other people and claim some of their love for yourself. A great site for engaging in activities is your local health club. Ours has a special.
This day's Mini Miracle
A mini-miracle that became a reality for Linda was watching a neighbor walking a dog.  She spoke with the lady and learned that the dog got her us and about each day.  The dog has all kinds of limitations; age working against it with autoimmune and achiness.   Yet here it was setting an example for all of us to get up and get going!  Wisdom in a simple action.
News
Crain's tells us some of the latest news.  Where do you get your news?  Do you eat out?   These were a couple of the news ideas that Linda discusses.  What is new in your area and what affects you? Send me some of the places you find to be truthful and trustworthy.
Thoughts about the mail that comes around during the holidays?  What comes in your mailbox?   Does it affect you?
Take the first step forward, it may put you on the escalator of success.