Podcast: Play in new window | Download
Hello Friends, this is Linda Gullo of Mini Miracles from Minor Moments. This is Podcast number 60 and it is on a variety of random thoughts that I wanted to share with you. To begin with, this week seems so short due to July 4th landing on a Tuesday. I was genuinely surprised to find many people working in the area where I have my office this past Monday. I came in to clean up some loose ends and got quite a bit done. Now here it is on Friday, and I am mindful of all that has been accomplished. I hope your Holiday was a refreshing and safe one for all of you listening.
I am trying to step this Podcast to the next level.  In the next few weeks you will be surprised with a few new changes that are happening behind the scenes.  We will be on for a good 30 minutes sharing a different topic every week. The variety should lend itself to things that you or your family members are addressing each and every day. In that way, we can bring you some inspiration and resources. Podcasting is a fun thing for me and hopefully you'll find it fun to subscribe to. As you do, please pass on the site to others.
The first topic today is about how much our society has changed in the last 20 years and where we are going. LOL, I am not sure, but I do know the our smallest children are busy using the I Pad. Earlier today I was listening to someone on the radio who had an 18 month child that loved the I Pad. I can imagine that quite easily, since I have smaller, as well as, older Grandchildren who are glued to their digital tablets.
Let's face it, these tablets allow us to play games and get instant feedback. They provide kids who are alone a means of something to do. I even love the thing. I can get onto Hooked On Words and waste time in an outer dimension. For me, it is an escape from reality for short periods of time, usually in the evening. For children, it is good because it keeps the kids off mom or dad's phone. Kids love to press keys and be independent. Now I can hear some of you saying that it hurts their eyes… well one of the sites that I have listed on the blog here even addressed that issue. I do believe the I pads can be good, but not at the exclusion of reading good old fashioned books that one checks out at the Library. Reading is still something we all need and should be encouraging our youth to learn. These digital pads have come down in price over the years and are small enough to slip into a purse or briefcase. They are able to keep us connected to others and that is always a good thing in my mind. IT however, can also isolate us if we let it. Each person and family needs to take ownership of their own habits.
Next topic is about  books. I remember going to the Woodstock Opera House many years ago. It was a Thursday morning Creative Arts program and the guest was Alexander Stoddard. A stately and well dressed lady in red took the stage sitting comfortably next to a small table. She grabbed my attention by her confidence and love for flowers, colors, and style. Soon I was hooked on her books.
Being a young mom at the time, I was inspired by her love of making her environment beautiful. She authored many books on living with a creative spirit. It encouraged me to spray paint things to match our home and to refinish furniture. I love decorating! For years I would buy her writings and give them as gifts. She truly inspired me to see more of what I liked was what others enjoyed as well.
I see she is still is writing a newsletter and has a few books. Choosing Happiness is one I have just ordered from Amazon. Keeping our offices, homes, and cars comfortable and personal is a fun thing to do. It allows us to be efficient and happy at the same time. Her writings helped me learn what worked well for me. It was almost therapeutic for me. As a counselor, I like to see opportunities for people to grow and to figure out their own destiny. So it is my recommendation this week.
Next topic involves a cartoon picture of our dog Petey. It is one of a series that I had drawn for my writings many years ago. I used this as a photo for the Podcast/blog today, because it made me laugh at the idea of a dog studying.
But in fact, they do study! They try very hard to please us as their Masters and follow their instincts to protect us. They eat what smells good. They play with whatever toys we provide for them, and adapt pretty well to changes. Dogs can learn new tricks, and become our best friends.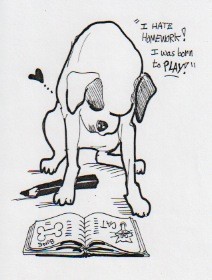 The classroom for many of our pets is our home. They learn what is permissible and what behavior is condoned.
It becomes obvious to us too, as adults, that not all learning takes place in the classroom. We are magnificent creatures. God has given us 5 senses that enable us to expand our minds. We are able to hear recordings of voices, symphonies, or lectures. For many of us TED talks help us grow. Experts in various fields speak passionately about their topics and we are the proud recipients who benefit. Next is our ability to taste.
Further learning takes places as we taste foods from other cultures and recipes from other homelands. We smell the morning coffee or the aroma of a croissant. We see videos, films, live plays, and hear concerts at nearby community or church settings. We have the ability to move from city to city, across the world, and overseas. A century ago we were still using horseback, trains, and boats to move us around. The improvements to move us about that came with airplanes made travel more available and speedier. We've come a long way baby.
New chances to expand our minds develop daily through Webinars. Since I am a lifelong learner, these are so much fun to me. I don't have to travel far to take in new material. And finally we feel the leather of the chairs we sit in or the plush new fabrics of textiles that make up our clothes, pillows, and blankets.
Continuing education units are available all through the year with local workshops from the local hospitals, industry sites, and professional resources. So even as adults we get to keep learning.
Well I hope you have a wonderful weekend. Many of you are coming off of vacations, ease gently back into routines. Enjoy the month of July as it unfolds, and please continue to keep in touch with us. Feel free to visit www.lindagullo.com listen to our podcasts there or click on Mini Miracles from Minor Moments on your phone apps. You can also email me at linda@delightinliving.com thanks, and remember that one step may put you on the escalator of success! Bye for now.
www.alexandrastoddard.com/newsletter.asp
British kids start using iPads and tablets at the age of TWO
http://www.mirror.co.uk/news/uk-news/british-kids-start-using-ipads
http://www.pbs.org/parents/childrenandmedia/article-when-introduce-child-smartphone-tablet.html
www.ted.com/talks