Baby's of course, have many firsts.   It is wonderful for the child and brings happy memories for the family. Here this baby had his first ride on a train.   I am sure he won't remember it, but the advent of the phone with a camera made it possible for the family to document so many firsts.
We go through life experiencing our first days at Preschool, Kindergarten, and each year when school starts.   We encounter new teachers, new lessons, and new expectations placed on us.   Do you recall the firsts of your school days?  It is good to focus on the positive times!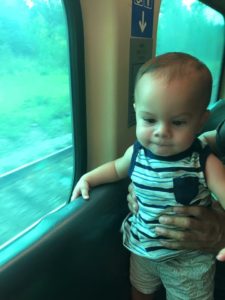 Firsts include the time we get on an airplane or travel to far away places. My grandmother was thrilled back in the 50's to travel to Florida via an airplane.   She loved to travel this way.   It was a first for her.   She had come from Czechoslovakia by boat to Ellis Island at the age of 3 in 1885.  She remembered being so hungry and trying to catch a loaf of bread being tossed over the railing.   A sailor caught her by the ankle from falling overboard; all in lust of  the moldy food.   It is odd the things we remember.  But those were certainly firsts!   Do you have grandparents or family members that share their special times?  I think we need to savor those happy times.
Some firsts we would rather have not experienced.   Flunking a test, going into a hospital, or financial woos.  The first time our country felt the pain of being attacked on 9/11.  Channel 11 aired the Special, September 6th called 9/11 Inside The Pentagon.  It revealed how survivors and the first responder's  reacted.  It helped us remember all the brave people who tried to help, as well as, all the sadness that day.   September 11, 2001 was a first we didn't ever want to see or witness.  We didn't want to see the pain or loss of so many people in separate, but unified attacks that day.  That day is haunting to so many families.   I still recall watching it all unfold on television.  My love, prayers, and best goes out to everyone affected that day.  That is everyone, because it affected us and how we react today!
There was a famous movie in 2012 called The First Time.  It was a romantic teen comedy film written and directed by Jon Kasdan.  In 1957,  a folk song with the lyrics "the 1st time ever I saw your face"  was made popular.   Many famous people sang it.
My father talked about the first time he drove a car back in the 1920's.  Those of us who hop into our cars and get around easily can't imagine how difficult it was to get around years ago.  People either took public transportation, walked, or rode their bicycles. People needed to carry shopping bags or pull carts to carry groceries.  My first car was an old Pontiac that got me back and forth to  the train station, but my first new car was an Oldsmobile Cutlass S.   I loved that car!
Many firsts provide good memories.   The first time we dressed up for Halloween or the First Christmas we remember St. Nicholas coming to our home.   May you have some really good 1st's this week.
Well the next blog is a Podcast.  I try to get them up each week.  A simple message of hope and a tidbit to us thinking.    Enjoy the Mini Miracles raining down on you today.
Save
Save